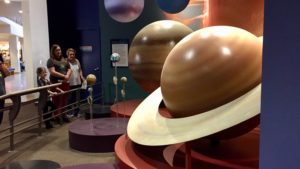 The most educational and culturally rich area in all of Albuquerque is densely concentrated in a three-block universe in historic Old Town.  Museum Row lines up the most powerful think-tanks, one right after the other: the Albuquerque Museum of Art and History, Explora! Science Center & Children's Museum and New Mexico Museum of Natural History and Science.  And right now, the New Mexico Museum of Natural History and Science is the shining star, shining brighter than even its sister stars (pulsars?) due to its temporary exhibit "The Genius, Leonardo Da Vinci."
This isn't to say that the New Mexico Museum of Natural History and Science's permanent exhibits are full of fluff.  Quite the contrary!  Their permanent exhibits Origins, Dawn of the Dinosaurs, Jurassic Super Giants, Age of Volcanoes, Cave Experience, New Mexico's Ice Age and planetarium could easily fill up your day (and your brain!) for the entire day.
For example, the dinosaur exhibits are truly to be reckoned with.  In the atrium stand the complete, gigantic skeletons of a Seismosaurus and a Tyrannosaurus rex (aka "Stan") which measures an awe-inspiring forty feet in length and twelve feet in height.  Unbeknownst to most of the public, many dinosaur fossils have been unearthed right here in New Mexico, and Stan is actually the second largest T. rex ever to be discovered.
What makes this exhibit—and others like it throughout the museum—extra special is the participation of the volunteer docents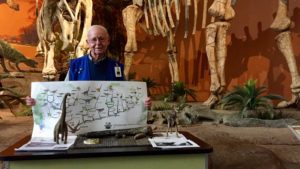 stationed at each one of the key stations.  In the atrium a retired physicist was situated in front of the massive dinosaur skeletons, cheerfully explaining the lineage and evolutionary process of the gargantuan reptiles.  Thanks to the docents, you don't have to read all the placards (thank God!), and because of the insight of one docent, I learned that the modern lungfish is a key evolutionary animal that still exists today.
Probably my favorite permanent exhibits are the ones dedicated to astronomy and space exploration which appropriately take up almost an entire floor.  Everything from gorgeous large-scale models of our solar system to a Mars rover you can maneuver by remote-control round out these hands-on exhibitions.  There's even a real meteorite that you can try to lift (believe me, I tried!).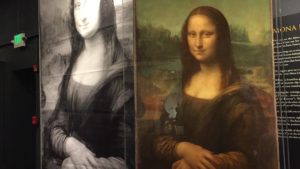 Without creating too much of a sense of urgency, it is crucial that everyone visit the temporary exhibit "The Genius, Leonardo Da Vinci" immediately and before it moves to its next location after July 29, 2018.  This scintillating exhibition consists of two parts.  The first focuses on his paintings, and of course the world's most famous one "la Giocanda," the laughing one, or Mona Lisa.  In it you will find copious explanations of that famous elusive smile, the shadowy quality of the work and of course, its historic context.  There's even a replica of the back of the painting (spoiler alert…it's made of wood!)!
The second part of the exhibit focuses on Da Vinci, the Renaissance inventor.  This exhibition features 75 large-scale machine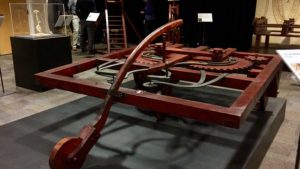 inventions, all brought to life by modern day artisans from his detailed journals.  You will find everything from real-life concepts of a car to a military tank. What sets this delightful exhibit from any other one I've experienced that it is almost all hands-on!  Nothing is more joyful than watching a young boy pull a lever that forces a hammer to slam down on an anvil, or watch a young girl be surprised by pulling a lever that moves a gear, that operates another gear, and so on and so on…, all of which were originally designed by a brilliant mind who lived some 500 years ago.
So, check out the Leonardo Da Vinci exhibit at the New Mexico Museum of Natural History and Science before it goes away!  And if you can't, please enjoy the video below which hopefully is the next best thing: