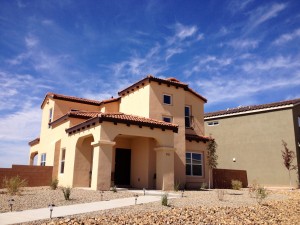 "Has alleys"…never have two little words created so much excitement for a Realtor®.  Maybe we should explain…  The Sugar Team recently was given a tour of Mesa del Sol, a new community located in southern Albuquerque just started in March 2012.  We have seen a lot of new communities come and then go in the Greater Albuquerque area for their lack of cohesiveness, affordability, or move towards sustainability, but Mesa del Sol thankfully gets it right.  As stated on their Website, the goal of Mesa del Sol is to create, "a new place designed to celebrate art, industry, the individual and the community, Mother Nature and common sense."
Mother Nature seems to play a prominent role in Mesa del Sol's 12,900 acres of land, where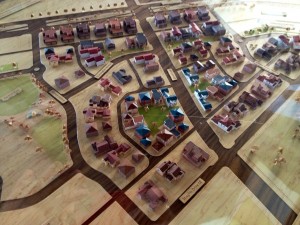 3,200 are devoted exclusively to parks, trails and natural space.  Viewed from above, the community–based on the Stapleton Model—resembles spokes of a wheel with each spoke radiating to a different place of importance.  Every home is certified Energy Star 3.0 and classified NM Green Build Silver, and according to the developer of Mesa del Sol, Forest City the average home in the community is designed to use 34% less water than the average Albuquerque home.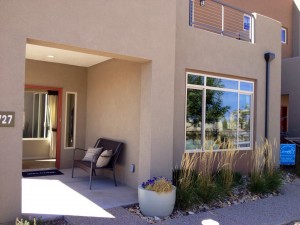 Unlike other new communities, Mesa del Sol is situated in the city limits of Albuquerque.  It finds itself within approximately 15 minutes of three grocery stores, Nob Hill and five minutes of UNM Golf Course.  And also unlike other communities, Mesa del Sol attempts to fold industry and schools right into its residential climate.  As a result, Fidelity, Molina Health Care, Albuquerque Studios, and Rose's tablecafé all work shoulder-to-shoulder with Mesa del Sol while the K-7 International School continues to educate some 250 pupils.
What most sets Mesa del Sol apart is its commitment to the "traditional neighborhood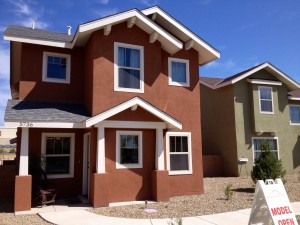 design," completely self-evident in its eclectic architecture.  Gone are the cookie-cutter repeats found in suburbia.  Rather, Mesa boasts five different home collections ranging from 1100 to 3000+ square feet with prices ranging from the mid $100s to the $300s.  Having experienced a private tour, we found the architectural diversity to be quite fascinating, covering everything from traditional bungalows and contemporary cool townhomes reminiscent of Nob Hill to more majestic Spanish Revival and traditional Pueblos.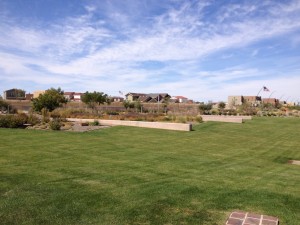 Even the Home Owner Association's (HOA) philosophy promotes one's individuality.  At only $45 per month the HOA covers the maintenance of parks, common areas and front yards while not restricting one's artistic expression in terms of choice of exterior paint color.  But what most differentiates Mesa is its alleys…
What you will notice when driving down the streets of Mesa del Sol is that none of the garage doors face the front.  Instead, the homes have 100% alley-loaded garages and driveways.  The reasoning behind this is both aesthetic and social.  Aesthetic, because no one can dismiss how insipid and cold a big, white rectangular garage door can be greeting every new visitor.  Social, because care has gone into making large, inviting front porches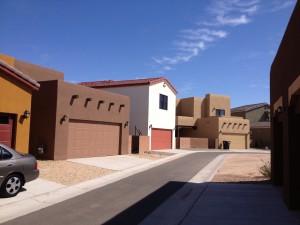 like in traditional, community-oriented neighborhoods.
Nonetheless, Mesa del Sol still has some kinks that need to be ironed out.  As we are just coming out of a recession, there is clearly risk involved in investing in any brand-new community, and approaching this as a "sure-thing" would be naïve at best.  To date, only 40 homes have been built, eight of which are model homes and only eight are presently occupied.  However, Mesa del Sol seems to be analyzing the short term and the long term as good as (or better than) any other developer.  And Mesa continues to be forward thinking, planning a community pool in the summer of 2013 and volley ball courts, dog parks etc. throughout their extensive park corridors.  One thing is clear; in comparison to any other new development, this community is impressive and absolutely merits a visit.
Just contact us at The Sugar Team, and we'll take care of the rest!