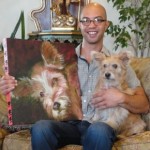 The Sugar Team recently sat down with professional designer and stager Christopher Tracy of Christopher Interiors to talk about the world of interior design.  In the interview Christopher discusses how he got his start in design, what's popular right now and general staging tips for those selling their home.
Christopher Tracy is no newbie to the design world.  He studied at University of Arizona and Cal State Long Beach, both in fine arts, and received a Fine Art degree from University of New Mexico and an Interior Design degree from Santa Fe Community College.
Christopher's extensive portfolio speaks for itself.  He holds more than 20-years of experience in remodels and renovations, 10-years in residential interior design and seven years in professional staging.  His many happy clients include Century 21 Unica, Flawless Skin Spa, Easy Give, UNM Santa Fe Dean's Office and Santa Tierra Apartments, Santa Fe.
The Sugar Team:  What sparked your interest in interior design?
Christopher Interiors:  When I was young, I would get bored easily and my mother would make me move our living room furniture around.  So, for 10 years or so, I would recreate different looks and placement of our very humble furniture.  In actuality, my mom was training me to become a designer without me really knowing.  As I tried to figure out what to do with my life, my friends and family encouraged me to decorate and do small design jobs. Before I knew it, I naturally fell into interior design.  I love and understand all interior design styles and can recreate or reinvent any style.  It truly is my calling.
ST:  How would you describe your style?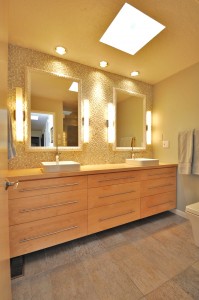 CI:  My design aesthetic is really based on what my clients are looking for or comfortable with.  I see myself as a tool which my clients can use to enrich their own styles.  Great listening skills are the best aspect I bring to all my clients and projects.  It's really not about what my idea of what is best for my client's spaces, but using my design skills to enhance my client's spaces in their vision.  Gentle hand holding and patience through what can be a difficult process is one of my best skills.
ST:  What styles are trending?
CI:  Current trends now are modern and retro styles mixed with traditional accents or the reverse.  Clean, crisp colors in neutrals are still a standard.  We are also seeing bold colors in furniture fabrics coming back.  Plus, the eighties influences are knocking!  Really, individual styles and how you see your space is in.  Just ask a professional before taking a wall down.  When in doubt, ask Christopher!!
ST:  What is one designer or artist that inspires you?
CI:  I really don't have one interior designer who inspires me.  I am inspired by my clients, their environment and life experiences.  I will sometimes refer to a certain look created by another designer, but only to explain this look to my clients.  Because my clients bring their own life to the space, I just bring it all together with that extra touch and attention to detail.
ST:  What staging recommendations do you have for someone selling their house?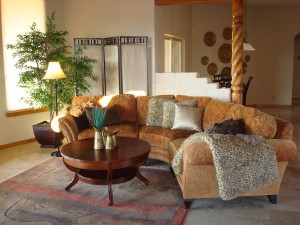 CI:  First, talk to your Realtor and have him or her walk through the house with you.  What your Realtor is going to do is base your priorities on what would be best to sell the house.  Then, the next step would be to bring in someone like me to help you understand what those priorities mean.  For instance, de-cluttering.  De-cluttering is a big priority because prospective buyers cannot see the house through your things.  It's important to create in your mind that you are actually moving out of this house.  Once you come to that realization then you can easily start packing things and really make the space as clean, crisp and simple as possible so that the prospective buyers can see all aspects—good and bad—of the house.  And then they can make a determination.  If not, then what happens is the prospective buyer is more interested in your personal items and not in the house.  The priority is to sell the house.
The next thing would be to paint if possible.  If there are some minor fixes, or if you need to refresh the space by painting or taking those curtains down that have been up for ten years, go ahead and do it!  The cleaner the space, the better.  It's not about making a beautiful, cute house; it's about making it presentable to the public.
ST:  When you talk about paint are you referring to red accent walls or maybe taupes?
CI:  I recommend that everyone who is into accent walls or bright colors as accents to remove them to bring the house down to a simple palette or as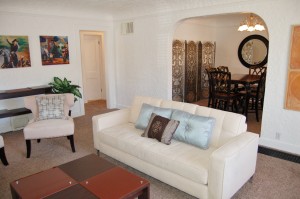 they say, "real estate beige."  That way the prospective buyers can start to see it as a neutral space versus, "What do I do with that red wall?  I don't know what to do with that."  If you have the money and you have the time, I recommend you have the house painted or you paint it yourself and just do those minor fixes.
I think the next thing to consider is curb appeal.  Curb appeal is the first thing people see when they drive up to the house.  If you have a dead tree in the front yard and the grass is dead the prospective buyer is already going to come in judging the house.  If you cut down or trim the trees and do the best you can do to spruce up the front of the house it's only going to create a more positive influence on the buyer.
I think the next thing you can do is clean.  Clean, clean, clean the space! Once you've gotten to the point where you've de-cluttered, you've worked on the yard and painted, go ahead and scrub the house top to bottom.  Because if not, and someone sees that there are cobwebs on the ceiling, then they are going to start looking for other things.  They are going to start creating a judgment: "Oh this person who lived here never really cleaned the house.  What else am I going to expect?"  We're just trying to eliminate as much judgment as possible.
Christopher Tracy sure gives a lot of sage advice!  Because he is such an authority in his field, The Sugar Team teams up with Christopher Interiors regularly, whether it be in the remodeling of a home or preparing it to sell.  As just one of the many listing services that The Sugar Team provides to its Sellers, we provide one hour of complimentary Christopher Interiors consulting advice in the staging of your home.  Contact us today to get started.  It truly makes a difference!