People believe "Xeriscape" is a form of South West landscaping consisting of a bunch of gravel, rocks and concrete coating their front and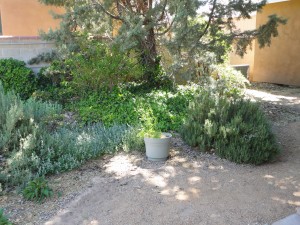 backyards.  Others think that maybe adding a couple of cacti is enough to earn this title.  However, neither could be further from the truth (in fact, both of these previous examples are really "zeroscape").  In reality, xeriscape is a form of landscaping incorporated to minimize water use and when carried out correctly, can be relatively colorful and aesthetically pleasing.  According to the Albuquerque Bernalillo County Water Utility Authority Website, xeriscaping is ideal because not only does it save water and money, it saves time.
Of course, being located in the dry, high-desert, we almost have an obligation to plant water-sipping plants and water-catchment systems that save every rainfall's last delicious drop.  Natural grasses and cacti indeed would be good options for spots of color and any kind of rain barrel at the receiving end of a rain gutter would be perfect for collecting water.  This avoids losing water to evaporation as well as run off.
In the long run xeriscape is a total money-saver.  It is designed to require little maintenance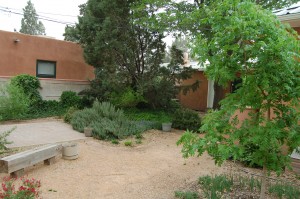 when carried out correctly.  (Gone are the times of pushing around a lawnmower to achieve that perfectly coiffed sod only to discover the dreaded crab grass…)  And unlike the traditional lawn alternative, xeriscaping runs little risk of being hit with a fine for excessive water consumption.
Here in Albuquerque there are many fantastic sources for designing, maintaining and benefitting from a xeriscape garden.  The Albuquerque Water Authority runs an informative Website about xeriscaping.  In fact, they even offer a rebate if you adhere to their xeriscaping guidelines.  A well-known xeriscape designer Judith Phillips with 30 years of experience is also a great find if you are starting from scratch.  And if you would like to check out an Albuquerque home whose front and backyards were both designed by Judith Phillips, don't miss the virtual tour for 2208 Frederick PL NW (yes, this home is for sale and listed by The Sugar Team!).
Useful Links:
2208 Frederick PL NW Virtual Tour: